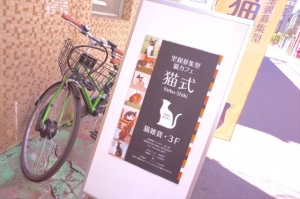 Throughout history, cats have been considered to be spiritual animals and a symbol of good luck in Japan. So it should come as no surprise that cat cafes are popular there as well. The Neko Shiki cat rescue cafe is one such place, outside of Tokyo. There you can relax with cats, in addition to taking yoga classes with them here.
There are approximately 200 cat cafes in Japan.
The fun doesn't end there.  There is also a cat Cafe train, that allows patrons to travel with adoptable cats and kittens.  A local rescue called the Kitten Cafe Sanctuary and the owner of the Yoro Railway Co started it to jumpstart tourism between the city of Osaka and Ikeno, the train's destination city.
Japan and cats and trains go a step further.  Tama the cat (short for Yontama) is credited for saving the Kishigawa railway line.  Low ridership and financial problems threatened to close down the rural train line, in 2006.  But the president of the Wakayama Electric Railway was made aware of Tama, a much loved cat at one of the stations, endearing herself into the hearts of commuters. She won his heart as well, and the train line remained open. She was named official feline stationmaster, and ridership grew along with her popularity.  She inspired a line of badges, key rings, and candy. Even though she passed away in 2015, she has a Twitter account that boasts 80,000 followers.  The ridership has gone up by 300,000 since 2006, and her subsequent replacement cats, which were once her well trained assistants, now wear her stationmaster hat proudly.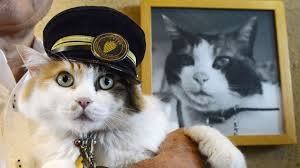 I knew about cat cafes in the United States, but became interested in the phenomenon more when I visited two overseas on recent trips. Romeow is in Rome and is a restaurant where 6 cats live and mingle.
In Barcelona, Espai De Gats inspired me. I wasn't alone. Trip Advisor lists it as a top tourist destination. It is touristy. But, sales of its line of cat "wear" go to a good cause. Namely, helping fund adoption of cats on the premises.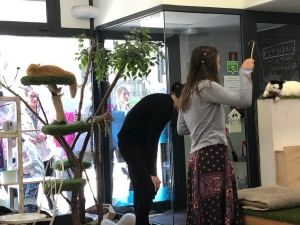 They were inspired by Madrid's La Gatoteca.  Owner Eva Aznar got the idea from Japan.  She works with a rescue group called ABRIGA.  Their time to rehome abandoned cats averages around two weeks. That is an incredible success rate. The longer cats are in a rescue facility, the less likely they are to be adopted or have a good outcome once adopted. This environment allows them to socialize with other cats, people, and get exercise while doing it.
This great idea has spread.  Check out this map, and the site below, listing the top cat cafes internationally.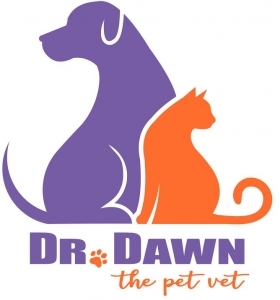 https://www.exeterinternational.com/cat-cafes/
I don't think you need to be a cat lover to love this story. In this day and age, we need some good news. And this is good news.
Dr. Dawn
Please share and subscribe here